Mike Greer (41) and his 18-year-old son Zachery were just getting ready for Sunday lunch when the drama unfolded around 12.30pm.
A pair of kayakers - also father and son - had got into difficulties on a fast flowing section of the Cusher River. The pair were thrown from their boat on a weir at the rear of Glebe Hill Manor.
Sean Sterritt, aged seven, was trapped in the fast flowing water as his father, who had managed to struggle ashore, could only watch helplessly from the bank.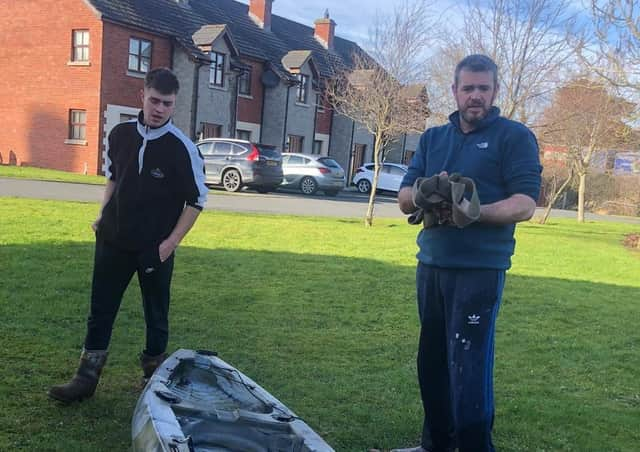 Mike's daughter Bethany spotted the man on the shore waving frantically for help and alerted her father.
Thinking quickly Mike sprang into action, grabbing tie down straps from his garage, where he had been 'foutering about' - and rushed to the high bank, throwing the child a makeshift lifeline, as the youngster clutched desperately to his kayak.
So powerful was the force of the water Mike had to get help from his son Zachery who threw the struggling youngster a second lifeline.
There was no other way to reach the youngster as Mike and Zachery edged along the high wall, carefully guiding the child to calmer waters where Mike was able to wade in to effect the rescue.
Describing the drama, Mike said: "I was down in the garage tidying up and foutering and looked at the time and thought it was time for lunch. Bethany, my daughter spotted a man on the opposite bank waving for help.
"I shouted across and he said his son was trapped in the water.
"I grabbed some tie down straps and ran down to a neighbour's garden to the river along a retaining wall. I dropped a line down to the water and told the child to grab it, the kayak he was holding onto was stuck in a waterfall, it was too far and too dangerous for me to jump in and there's no way the child's father could have reached him.
"My son Zachery dropped another line to the child and between us we moved him along the wall, we had to watch we didn't get pulled in too.
"Once we got him clear I jumped in and waded to him and handed him off to the emergency services who had arrived (Bethany had dialled 999 and alerted them).
The ambulance took him away, he was badly shaken and cold."
Mike said he was only thankful he had something he could throw to the child and it had taken them about 20 minutes to get the youngster out of the water. Once that rescue was complete Mike and Zachery set about retrieving the kayak: "I got two soakings and a ripped pair of jeans but it was worth it."
"It wasn't your normal Sunday," Mike said.
And he added: "I wouldn't have been able to live with myself if I had seen that wee guy go under."
Sean's mother Elaine expressed her gratitude to the two rescuers and all of the emergency services at the scene and at hospital. Of Mike and Zachery she said: "We are so thankful they intervened. It gives you a great sense of community to know there are people out there who are so good and so willing to help."
And she said, their quick actions had certainly saved her son's life: "The fire chief said if it had been another five minutes it could have had a very different outcome, we cannot thank them enough for what they did."
"Sean's been very resilient, but it's knocked us for six."
Fortunately Sean and his father had gone on their trip well prepared with helmets, lifejackets and full safety equipment plus they had made sure Sean had watched an instructional video on what to do in an emergency."
She went on to say the emergency services has also been "fantastic" and the hospital staff "could not have been any better" even amid the pandemic pressures.
Elaine revealed Mike and Zachery were being nominated for an award for their bravery and she also wanted to see the local council recognise them for their efforts.
She said: "There is no price on a life. We are forever indebted, if it had been five minutes later it could have been a very different outcome."
Indeed for Elaine it brought another point: "The infrastructure at the weir needs looked at. There's a big drop and no access. There needs to be something for the emergency services to get there, there needs to be better access to the weir."
And as for Sean, said Elaine speaking on Monday: "He got an extra hug today."
A police spokesperson said; "Police received a report of concern for the safety of a child who got into difficulty whilst canoeing in a river in the Glebe Hill Manor area of Tandragee on Sunday afternoon (February 21).
"Emergency services including police and NIFRS responded, when they arrived at the scene, members of the public had rescued the child from the river and taken him to safety.
"The boy was taken to hospital as a precaution, and was subsequently released."
Thank you for reading this article. We're more reliant on your support than ever as the shift in consumer habits brought about by Coronavirus impacts our advertisers.
Please consider purchasing a copy of the paper. You can also support trusted, fact-checked journalism by taking out a digital subscription of the News Letter.