The east Antrim outfit won 2-0 away to Crusaders on Friday to seal the championship and bring the Gibson Cup to Inver Park for the first time in Larne's 134-year history.
Speaking to the club's media director, Ian Cahoon, Lynch said: "It's surreal. I'm struggling to put into words what's going on. I couldn't be more proud and privileged to be manager of Larne FC. I'm so pleased for everyone involved, obviously Kenny (Bruce), who kind of made all of this happen. This group of players have been phenomenal, the fans, the staff. It's been a long journey for myself and Seamus (Tiernan's brother and fellow Larne coach), but nights like tonight make it worthwhile.
"I think it's important we enjoy the next couple of days with the players. There's no point doing all of this and putting all the effort and commitment that they make and the disciplines they have, not to enjoy it when they're successful.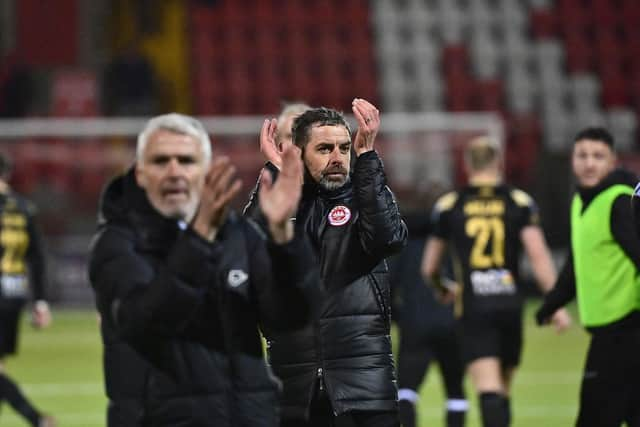 "They might not like it, but we'll be very professional from Tuesday to get ready for Friday (v Linfield). We have two games and we've to do the right thing by all the other teams in the league and then we will get a bit of a break to enjoy ourselves and let our hair down and then we'll get prepared for Europe."
Paying tribute to Larne's loyal supporters, Lynch added: "From the second goal went in I think they just continued to sing and I heard 'champions' at one stage. That's what this is all about. That's what this was all for. No doubt in that town for the next month you'll find a party somewhere, fair play.
"I'm here six years and I'm not one who likes the limelight. I'm a cog in the wheel of this. This season it was a well-oiled wheel. Nobody really talks about the good work that goes on off the field at Larne. People like Niall Curneen (the club's General Manager), the media boys and all the stuff that happens that makes us what we are on the pitch."