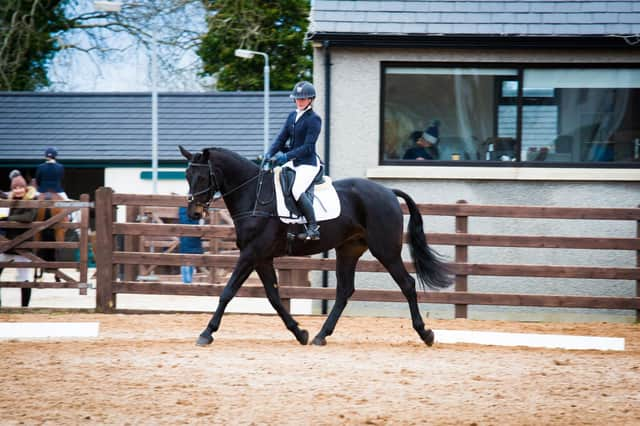 Hannah Blakely, Lougherne After Dark
The day started off with the intro class, with a total of 14 competitors turning down the centre line, for some of these competitors it was the first time ever doing a dressage test, first time back after an injury or first time out on their young horse.
Some very accurate tests were ridden and one which stood out for judge Coreen Abernethy was Abbie Cummins and her colourful traditional cob 'Cassie'. This pair are just easing back into work after an injury and had thought to try their hand at their first ever dressage test.
Second with another very impressive score of 72% was Olivia Courtney and 'Spud'. This was 'Spuds' second ever dressage test and with only being four years old, what a bright future these pair have ahead of them.
Onto the newcomers class where a total of 10 competitors entered the canter test. A welcomed face to Hagans Croft was Olivia Pele and her new horse 'Mirlo Mon'. At only 4 years old this pair really strutted their stuff, walking, trotting and cantering into first place with a score of 72.92%. Second place went to Cathryn McCarroll and 'Maggie May' who have been putting in lots of hard work during the week and all the practice paid off with a score of 69.79% and a beautiful blue rosette.
Next on the schedule was the Prelim class and there was one clear winner that saluted to a fantastic score of 81.75% and that was Hannah Blakely and 'Lougherne Atlanta'. Hannah's winning streak did not finish there as she entered the Novice class on her second mount 'Lougherne After Dark'. The pair began their test with a foot perfect centre line and wowed the judge to receive a perfect 10/
Three competitors took on the Elementary class. For the second week in a row the red ribbon went to Rachel Rendle and 'Meg' with 73% and second place was Laura Fekkes and 'Finn' with 69.75%.
As well as competing her horse Finn in the novice and elementary classes Laura Fekkes was also keeping a close eye on all competitors on the day as she has very kindly donated an award in memory of her late horse 'Harold' who loved to compete at Hagans Crofts dressage leagues. This award is called 'Harolds Horsemanship Award' and entitles the winner to a full biomechanics session on and off your horse with Lisa Allen from equimech biomechanics and coaching.
Hagans Croft would like to thank everyone who supported the second week of their six week Dressage League. Thanks are extended to judge Coreen Abernethy, scribe Katie and all the stewards for making the event run so smoothly.
This event is pre-entry only with entries taken via Hagans Crofts website www.haganscroftequestrian.co.uk or you can download and enter through the Hagans Croft App. Entries close each Thursday at 8pm prior to Saturdays event and start times are posted online Thursday evenings.