On Saturday May 6, visitors are invited to enjoy the Coronation events on the big screen which will stand tall on the South Lawn and will stream the occasion live from London from 10am.
Visitors can choose their perfect viewing spot on the lawn, plus play lawn games before the Royal Gun Salute at 12noon. Downshire Brass Band will provide even more pomp and celebration after the official Coronation ceremony from 2.30pm.
The events continue on Sunday May 7, and on both days, visitors can bring a picnic to enjoy on the acres of gardens throughout the estate, enjoy lunch in the onsite café, or from a hot food vendor and ice cream stand on site.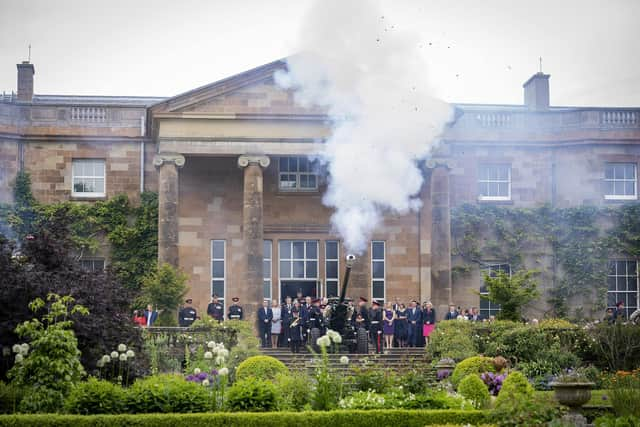 Traditional lawn games can also be enjoyed throughout the Sunday events, which will also see a host of live entertainment, including the Boom Strutt Brass band, Belfast Community Gospel Choir, Swingtime Starlets, the Lisburn Rock Choir. A special performance from Beechlawn School's Makaton Choir will open Sunday's line up of entertainment.
On Bank Holiday Monday May 8, the Castle's Head Gardener will host Coronation Tree Tours throughout the day, giving visitors the opportunity to hear more about the historic trees planted over the years to mark the late Queen Elizabeth II's coronation and her jubilee milestones over the past 70 years.
For those with a Castle and Gardens ticket, visitors can see inside the Castle and marvel at the State Rooms still used for royal occasions and political discussions today, including the magnificent Throne Room.
A new addition to the Throne Room will also mark the occasion – Historic Royal Palaces has worked with Turquoise Mountain, one of the King's charities, to commission a new carpet for the space.
Victoria Hatwell, Visitor Services Manager, Hillsborough Castle and Gardens said: "This is a history making weekend and we are delighted to invite local visitors to join in the celebrations from the King's own back garden here at Hillsborough Castle."