Queen's Square's coronation party on Sunday, May 7 begins at 1:30pm. The programme of events includes games from pass the parcel, musical statues, and a treasure hunt to a Royal quiz and more. There will be a fancy dress competition for adults and kids alike. Residents are encouraged to decorate their gardens and bring along some tables, chairs and food to dine out together between 3-4pm. The Doogan dance troupe will be on at 4:15pm with a visit from the ice-cream van at 5pm. Later in the evening there will be a magician (5:30pm), Royal bingo (6:30pm) and a disco with DJ Dee from 7-10pm.
Barn United Social Club's coronation party on Saturday, May 6 begins at 1pm. There will be a bouncy castle, kids' fun karts, a popcorn machine, games, and face painting. It costs £3 each or £5 per family.
The Courtyard, Carrickfergus is hosting a post-coronation barbecue on Monday, May 8 from 12pm to 3pm.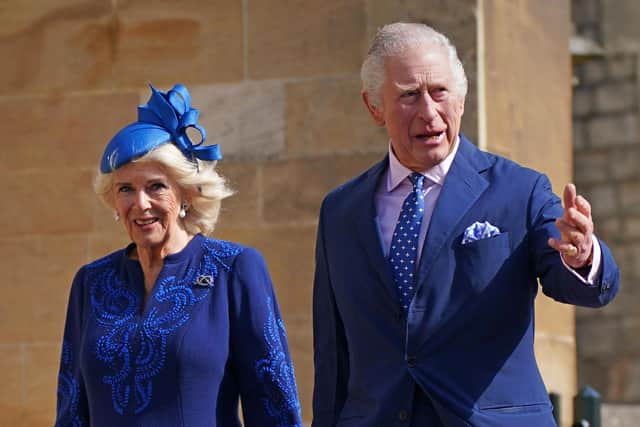 Millbrook Community Hall will host an afternoon tea party on Monday, May 8 from 1-3pm.
Glynn Community Group's family fun day on Sunday, May 7 will run from 2pm-5pm in Glynn Primary School grounds. The day starts with a fancy dress parade from the phone box on the main road at 1.45pm; children must be accompanied by an adult. Adults are welcome to dress up also. There will be a prize for best dressed. The day will also include face painting, kids' crafts, bouncy castles, fair ground games, a barbecue, afternoon tea, an ice cream cart, fire engine, DJ, and music from Killýglen Accordion Orchestra.
Cairncastle LOL 692 are having a celebration on Monday, May 8, to be held in the field opposite Cairncastle Church of Ireland from 2pm-4pm. Entertainment for the day includes a 45-foot assault course, music by Killyglen Accordion Band, and traditional games. At 4pm there will be a parade to Cairncastle Orange Hall led by Cairncastle Flute Band. Visiting Brethren are welcome to take part; regalia is to be worn. Children are encouraged to take part in the parade and to design and wear their own crown. On arrival at Cairncastle Orange Hall, there will be bouncy castle, food, and music from DJ Stewart Ferguson. There will also be a raffle and draw to win a coronation teddy.
Cairncastle Flute Band will be holding a family fun day on Saturday, May 6. The day will begin with a children's parade, with parents invited to bring the kids along to walk with the band. Children are invited to make their own crown with a prize for best design. The parade will leave Ruby's Bar at 2pm, proceeding to Riverdale where a family fun day will take place from 3-6pm. Entertainment includes bouncy castles, face painting, balloon modelling, and music. Tea and coffee, burgers and ice cream will be available. Meanwhile, the main parade will be leaving Riverdale at 8.30pm to the town centre. Cairncastle Flute Band and guests are parading at 10pm, finishing at Larne Pigeon Club with a disco.