The Baileys and Guinness owner is proposing to extend warehousing at its site at Enterprise Way.
Diageo Baileys Global Supply is also seeking to provide new staff facilities, increased car parking, trailer bays, improved site access, associated landscaping, external lighting columns and associated site works.
A Pre-Application Community Consultation Report says that the Diageo Baileys Global Supply facility opened in 2003 following a £40m investment to produce Baileys cream liqueur. It is one of two production sites internationally.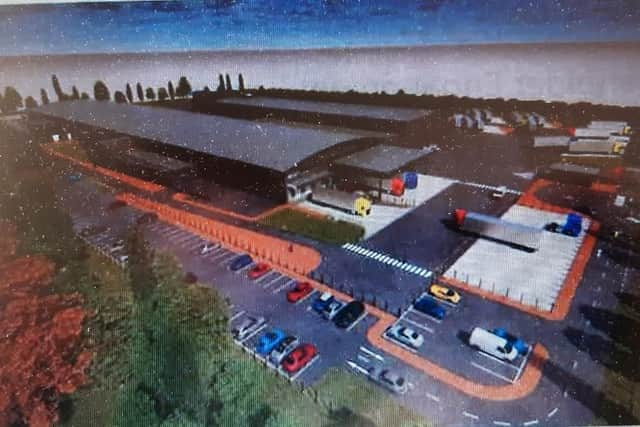 It states that the Baileys beverage manufactured in Mallusk is sold in more than 150 markets worldwide with more than 60 million bottles exported annually.
Diageo says that it employs 350 staff at its sites in Mallusk and Belfast. As well as production of the alcoholic drink, the Mallusk facility is used for bottling, labelling and storage.
The report says: "It makes a considerable contribution to Northern Ireland's economy with over 97 per cent of production being exported. The facility is also a key player in the agri-food industry with 80 per cent of ingredients being sourced from local suppliers from across the island of Ireland.
"The application to extend the Diageo Baileys Global Supply facility will support production demand."
New Storage
A letter to councillors says: "We are making this application now as the facility's warehousing is currently at capacity and requires the development of new storage facilities to avoid bottlenecking in production with new warehousing capable of storing both raw material and final products for distribution.
"The extension would see on-site logistics improved with additional loading bays and upgraded internal site access for the delivery and distribution of raw materials and final product."
A community consultation event was held at the Corrs Corner Hotel, in Newtownabbey, last year. However, the project team received no response or feedback.
A Diageo spokesperson said: "Following a pre-application community consultation process last year, Diageo has submitted a planning application to extend its Baileys Global Supply site at Mallusk.
"This multi-year project builds on the £40m investment that Diageo made to open the site in 2003. Construction timings will be subject to planning permission but our ambition is for works to commence in late 2023."
Michelle Weir, Local Democracy Reporter