Making new friends and 'feeling part of the community' at Greenisland's Cuppa Club
A Greenisland group, which provides opportunities for older people to leave the house to socialise and prevent them feeling isolated, is to expand its services.
Watch more of our videos on Shots! 
and live on Freeview channel 276
Visit Shots! now
Run by Greenisland Football Club, the weekly Cuppa Club provides activities, support and a hot meal for members of the community – but there isn't a football in sight.
With a group of 20-30 regular attendees and another 30 people who receive a weekly hot meal delivered to their home, the club has grown in popularity and is going from strength to strength thanks to a £200,000 grant which it received last year from The National Lottery Community Fund.
Now in year two of its three-year grant, the club is expanding its activities to include cookery classes and sessions for people with visual impairments.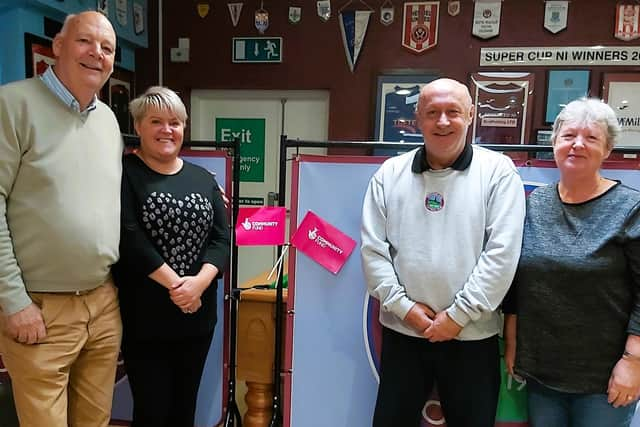 Roy Williamson, (75), from Greenisland, has been attending the Cuppa Club for just under a year and says he would be lost without it. He commented: "Coming here is a necessity for me. I'm a full time carer for my wife who has dementia, and this club is a chance for a few hours of respite for me.
"I'd seen the Cuppa Club advertised but didn't think it was for me as I thought it would just be older people having a cup of tea, but it is so much more than that. Once I heard about the activities, I decided to give it a go and I don't know what I'd do without it now.
"Fortunately, I was able to get help from another charity to have someone come and sit with my wife Lynn every Wednesday morning so I can come along to the club regularly. It means I can come and have fun without worrying that she needs me.
Quite Competitive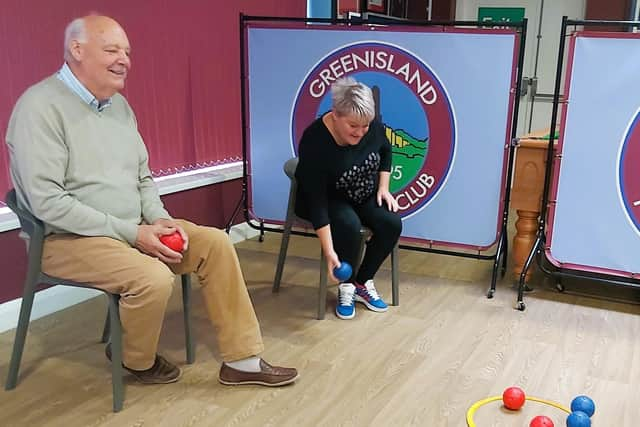 "I really enjoy the Boccia and get quite competitive, and I've made lots of new friends. I took part in one of the cookery classes and learnt about growing herbs in a window box. This inspired me to plant some veg in a raised bed in my garden, and I've even been able to cook with the produce I've grown. Getting out to the garden is accessible for me while caring for Lynn at home and it helps my mental health.
"The staff at the club make everyone feel welcome and like part of the family. They always send me home with a lunch boxed up for Lynn so I don't have to worry about cooking that day. They've also supported me to bring Lynn along a few times but it can get too much for her. She joined me on one of the trips the club organises which was to the zoo – it was really special as we'd first met at a dance at the Floral Hall in the zoo so it brought back lots of memories."
Laurence Gilloway, community outreach co-ordinator, at Greenisland Football Club, noted the community support the club provides is at the heart of what it does as a sports club.
He said: "As part of the meal programme we provide for people attending the Cuppa Club in person, we also make meals which we deliver to people in the community who aren't able to leave their house. It helps them to feel included and have some interaction from our team.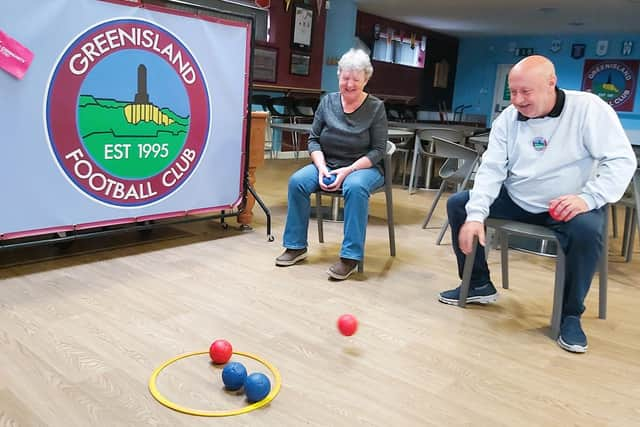 "We want to support people, especially during these times where there are high levels of food poverty and poor mental health, but it wouldn't be possible with funding from The National Lottery Community Fund.
"We have a mix of people coming to the club, some have poor mobility, or some are older and live alone, and some come from the local Fold. People are travelling from Carrickfergus, Newtownabbey and Ballyclare to join us weekly. A lot of the activities we provide are armchair based so everyone can take part together and they love it – it gets really noisy when they are in teams."
Jim Smyth (58), who played football at the club in his younger days, loves to come back to the club every week. Jim said: "There is a great atmosphere here which you feel as soon as you walk in. It gets me out of the house and the opportunity to spend time with great people, including my sister Ann."
Jim travels from Newtownabbey to come to the club and picks up his sister Ann Hutton (64) on the way. Ann said: "This club keeps us in touch every week, it is the main way we spend time together. But I've also made lots of new friends that I wouldn't normally have had the opportunity to meet and I feel part of the community here."
One of the younger members of the group, Clare Strong, (49), said: "I look forward to coming here every week, it makes me feel part of something and helps me with my mental health. I bring my mum with me too, she's 86 and it's the highlight of her week."
Greenisland Football Club is one of the many organisations which benefits from over £30million raised by National Lottery players each week throughout the UK. The National Lottery Community Fund, which is one of the distributors of this good causes money, recently launched its new funding strategy up to 2030 which will ensure National Lottery money continues to make a difference to communities across the province.