Around 50 people rescued by firefighters during three days of challenging weather conditions
Almost 50 people have been rescued by Northern Ireland Fire & Rescue Service (NIFRS) in flood related incidents over recent days.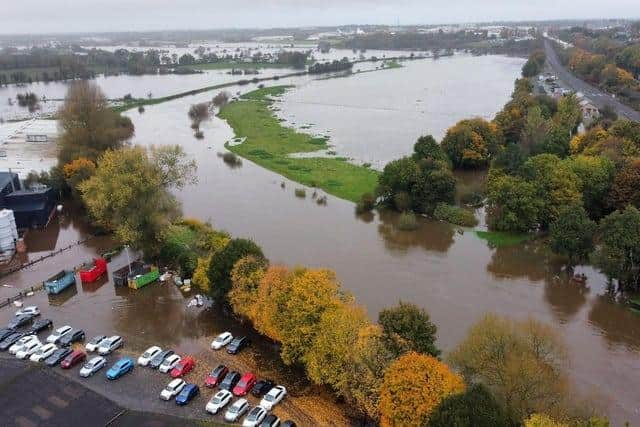 Firefighters have also responded to eight animal rescue calls and seven water in electrics incidents. The figures were revealed as the NIFRS appealed to the public to remain vigilant and adhere to safety advice after a third day of challenging weather conditions.
Across the period of 6.00pm, October 30 until 1.00pm today (Wednesday), NIFRS received 384 emergency calls with 162 of these calls being flood related incidents. Specialist Rescue Team, Flood Response Teams and local crews attended 75 flood related incidents which involved rescuing give people who had entered water, 31 people from vehicles in water and 12 people from flooded properties.
NIFRS Assistant Chief Fire & Rescue Officer Aidan Jennings said: "Our firefighters and multi-agency partners have been working in extremely challenging, adverse weather conditions over the last few days. I would like to emphasise that we remain in the response phase of this incident and are continuing to receive emergency 999 calls for assistance.
"I want to reassure the public that our contingency plans remain in place and we are continuing to respond should you need us in an emergency. I would like to pay credit to our local crews, Specialist Rescue Team, Flood Response Teams, control room operators, supervisory officers and support staff, all of whom have responded to support our operational response and enhanced resilience arrangements.
"I would also like to thank the public for supporting us during this critical time and ask that they continue to adhere to the public safety messaging and avoid flooded areas. Please act safely and be responsible and vigilant and follow our safety advice."
Motorists should be aware of road conditions. It takes longer to stop when the road conditions are wet. Drive at the speed the conditions allow for, such as flooding and darkness;
Motorists should not attempt to drive through flooded roads or fords. Water is often deeper than it looks and your vehicle may be swept away or become stranded;
In shallow but passable water, motorists should avoid creating bow waves which can damage your car engine and remember to test the brakes after leaving the water;
Do not attempt to walk through flooded areas. Even shallow water moving fast can sweep you off your feet and there may be hidden dangers, such as open drains, damaged road surfaces and submerged debris;
People should pay attention to the road closure advice as many roads are closed because of flood conditions which are not suitable for traffic;
Please stay away from flood defences, flooded areas and watercourses as these areas may be unsafe until an assessment of the damaged caused by the heavy rain can be made
The Department for Infrastructure (DfI) says it continues to work alongside the PSNI and other multi-agency partners to respond to the situation and to deploy resources to where they are needed following the wet weather. In a statement, DfI said there have been around 900 calls to the Flood Incident Line and approximately 12,000 sandbags have been deployed to areas where rain intensity, high tides and saturated ground has caused the flooding.
It stressed: "People are also reminded to pay attention to the road closure advice. Many roads are closed because of flood conditions which are not suitable for traffic to go through. Where necessary, temporary road or lane closures have been put in place on roads blocked by flooding and resources assigned to clear blocked pipes and gullies across affected areas. The most up to date information on road closures is available on www.trafficwatchni.com"
Meanwhile, Armagh City, Banbridge and Craigavon Council is urging the public to be mindful when travelling or visiting any of the areas impacted by flooding as the emergency response continues across the borough.
Flood Defences
The public are being warned to stay away from flood defences, flooded areas and watercourses as these areas remain unsafe, take notice of cordons and signage, and use paths and trails that are accessible.
The Lord Mayor, Alderman Margaret Tinsley, said: "This is a deeply distressing time for many of our residents and businesses, with unprecedented flooding impacting large parts of the borough. I want to assure everyone impacted that the Council is doing everything possible to assist with the emergency response.
"Council officers have been working through the night and continuously over the past few days as part of the multi-agency response to the flooding situation, assisting elected members, the Department for Infrastructure, PSNI, and the Trust. Council vehicles and officers are supporting drainage agencies in the prioritised deployment of sandbags and are being directed to those areas of immediate need."
Householders are advised the Emergency Payment scheme for flooding is now active. Residents who have suffered severe impact can claim a £1,000 payment, to avail of this support and assistance you must report the incident to the Floodline on 0300 2000 100 or contact the council by email at [email protected]
Business support for non-domestic and commercial properties is available through a rate relief scheme, more information on how to access this support is available on www.armaghbanbridgecraigavon/servicedisruption
At this time the council is continuing to advise the public and businesses that all flood and sandbag enquiries should continue to be directed to the Flooding Incident Line number 0300 2000 100.
Protect Properties
Upper Bann MP Carla Lockhart has spent today at homes and businesses impacted by flooding in the area and has called for further support from statutory agencies to protect properties.
The DUP representative said: "The extreme rainfall seen over recent days has caused misery to many homeowners and businesses in the Portadown area. We are seeing flooding that I have not witnessed in my political lifetime, and sadly the impact has been devastating for some residents and business owners.
"Added to this are the major problems faced by drivers, with so many roads either impassable or heavily impacted by flooding. This has a huge impact on a range of essential services, particularly in rural areas.
"I have been liaising with relevant agencies throughout the day, and it is worrying that it would seem that sandbags quantities are extremely low, with still many homes facing the threat of flooding."
Upper Bann Alliance MLA Eóin Tennyson said he has written to the Department of Finance and Secretary of State urging that a support package, including appropriate rates relief, be put in place.
He added "This morning we have been engaging with the local Chamber, the Department for Infrastructure and council, all of whom have been working around the clock to provide assistance. There is huge anxiety amongst households and businesses affected."