Peter Mulholland and his friend, Jim Adams, battled tricky weather conditions and a mammoth hill climb during the fundraiser.
The two friends were cycling to raise money for Hope House Ireland, which is a charity that provides cancer patients and their carers with a place to stay for rest and recuperation during, or after their treatment.
They were among the 6,000 participants who took part in the Etape Loch Ness event – a 66-mile closed road route around the famous Scottish location.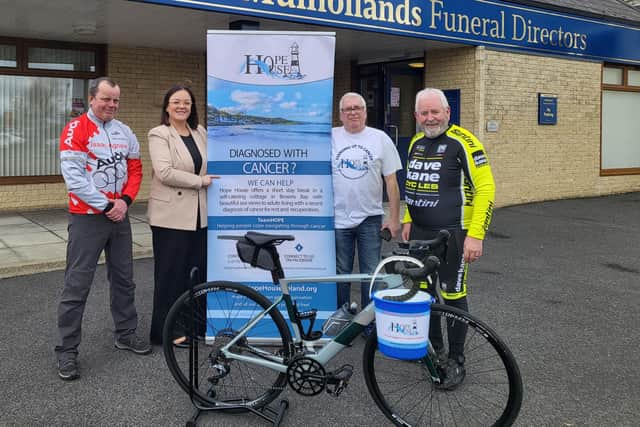 Peter, who now works as a consultant at Mulhollands Funeral Directors, which was founded by his father in 1966, voiced his thanks to all who pledged their support.
He also thanked Mulhollands' parent company, Funeral Partners, who boosted the donations already received by contributing £1,000, bringing the total amount raised to just under £3,000.
Peter said: "Jim and I would like to thank people for being so incredibly generous. The facilities Hope House provides are just fantastic, so it's a very worthwhile cause. I hope the money makes a real difference.
"I'd also like to thank Funeral Partners for providing the cycling jerseys we wore with pride during the challenge."
Peter went on to say the hill climb was one of the most demanding parts of the ride, especially combined with the sleet and mist, which had rolled in.
"We were told before we started that a piper would be playing at the top of the hill, and when you could hear him, you were close to the finish line. It was such a relief when we heard him playing because my legs were really hurting but despite the pain, I can honestly say that it was a fabulous experience, and I felt an amazing sense of achievement when we finished."
Megan Rodgers, general manager, Hope House, said: "We're thrilled that Peter and Jim have raised so much money for Hope House Ireland.
"We're so grateful to them, and to each and every person who gave donations to offer people the chance to rest and recuperate away from the pressures of hospital treatments and appointments."