The limit is to be changed from 60mph to 40mph along a one kilometre stretch of the seaside route.
A spokesperson for DfI said: "Following concerns raised by an elected representative about the speed of traffic where pedestrians cross the A2 Coast Road from the public car park opposite Carnfunnock Country Park, the Department carried out a review at this location in conjunction with the PSNI.
"It was agreed that a reduction in speed limit was appropriate and in line with Departmental policy and guidelines.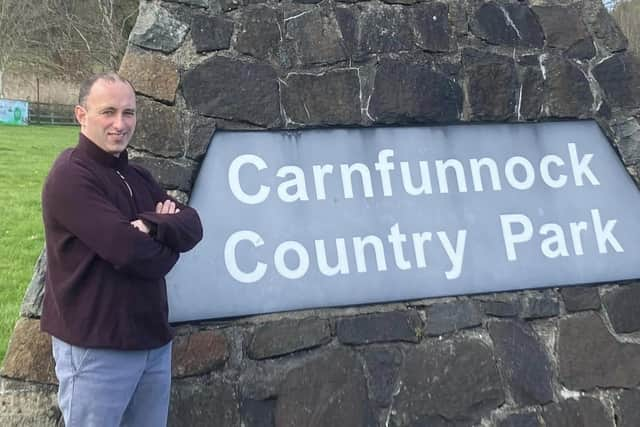 "A section of the A2 Coast Road, stretching from the existing 30mph speed limit terminal signs at Drains Bay for just over 1 kilometre in a northerly direction, is to be reduced from National Speed Limit to a maximum speed limit of 40mph.
"This is currently going through the necessary legislative process."
The issue was raised with DfI Roads Service by Coast Road councillor, Andrew Clarke. "There is a really good case that 60mph is too high at this point," he said.
"You have the entrance to a busy attraction - which will perhaps be busier after the upgrade. There is a car park on the seaward side of the road, with people then crossing over to Carnfunnock. There is also a slipway to the sea, used by various local groups.
"Hopefully this area will now become safer for motorists and pedestrians alike."
The proposals include construction of a new visitor centre which will house a reception/shop space, café and toilet facilities, overlooking the coastline.
It will also see an upgrade to existing caravan park amenity block and activity centre facilities.
A pump track to create an attraction for older children and investment in the existing adventure play to include inclusive and accessible play to ensure fun for all are also elements.
Furthermore, path infrastructure work and a new maze viewing platform will improve accessibility throughout the site.
The proposed improvements to the popular site are due to UK Levelling Up Fund support of over £6m.
Levelling up is a UK government regional development plan aimed at improving economic performance.
A report to Mid and East Antrim Borough Council's Direct Services Committee said it would be located in the "safari tent" area.
The report states a tender is being compiled for asphalt surfacing in this area beside the children's playground for use as a skate park.
The local authority has been looking at "potentially suitable locations" in Larne for a skate park following the opening of one at The People's Park in Ballymena last September.
The report also notes that Rawee Skate School will be running summer schemes at the park in July and August.