Some people tick off football grounds they've visited or cathedrals they've been to, but Mervyn and Mabel Montgomery have made it their mission to visit every Asda outlet in the province.
The couple, who are both aged 79, have been to 14 out of the company's 16 locations - and are looking forward to buying their groceries in the remaining two.
Mervyn and Mabel, who've been married for 55 years and have a daughter Alison, usually go shopping twice a week. Mervyn said: "We mostly rotate around the stores in Antrim, Portadown, Downpatrick , Ballyclare, Newtownards, Cookstown, Belfast Shore Road and Ballyclare, but we've also visited Coleraine, Kilkeel, Bangor, Westwood, Dundonald.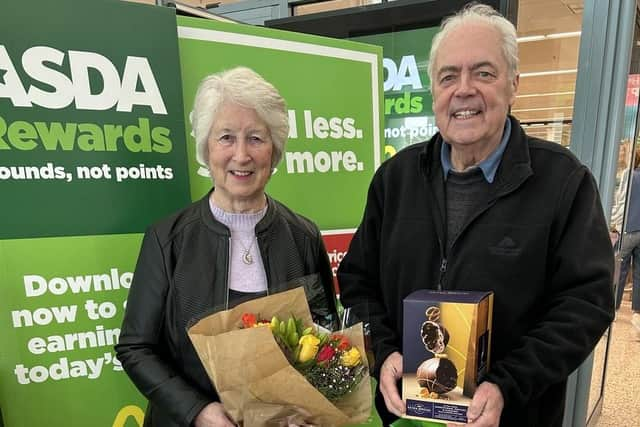 "We went to Asda Enniskillen, which is about 75 miles from us, when we were staying in the area. We also go to Asda Living in Belfast. The ones on our 'to do' list are Omagh and Strabane, but we'll get to them probably when we go in that direction for a holiday."
Mervyn explained why they keen about this particular retailer. "It's because of the quality and the value," he said. "And all the staff are so helpful and friendly – we've never come across staff anywhere as friendly as the Asda staff. No matter where we go or what location it's in the colleagues are always so friendly."
On a recent visit to Cookstown, Mervyn and Mabel met the store's community champion, Janice Gibson and manager, Peter Beckett.
Mervyn continued: "Janice was interested in hearing about our shopping experiences with Asda, and we gave her all the past details of the various Asda stores we have shopped in over many years. It was one of the most memorable and enjoyable shopping experiences we both have had."
Peter Beckett said: "I'm delighted to hear the comments of two great customers like Mervyn and Mabel. It made me proud to listen to them. It's a great story.
"We like to have a bit of fun in our store, and I think that came across to them when Mervyn and Mabel came in. The colleagues were really engaging with them."