The native woodland is currently being planted at Carnfunnock Country Park in Larne as part of Mid and East Antrim Council's commitment to becoming carbon zero.
The scheme is independently verified which provides assurances about the carbon saving of the woodlands within it.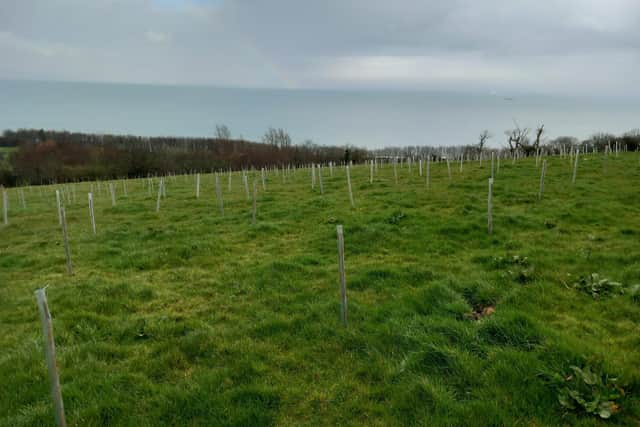 are responsibly and sustainably managed to national standards;
can provide reliable estimates of the amount of carbon that will be sequestered or locked up as a result of the tree planting;
must be publicly registered and independently verified;
meet transparent criteria and standards to ensure that real carbon benefits are delivered.
Additionally, council notes, this new woodland will provide excellent habitat for wildlife in the area, including the recently re-introduced red squirrel – especially important as the first wild-born red squirrel kittens at Carnfunnock appeared in spring 2021.
The Mayor, Alderman Noel Williams, said: "Council has committed to reducing carbon going into the atmosphere through a number of different approaches, and tree planting is one of the most important.
Green Spaces
"This new Carbon Code Woodland will offset 5,200 tonnes of carbon per year, provide a fabulous habitat for biodiversity and create quality green spaces for both local people and visitors to enjoy."
This project has been funded by The Woodland Trust, who secured 100% grant funding for the planting and first five years of management costs.
Council's Climate Canopy project, funded by the Woodland Trust, will enhance woodland to help tackle both the nature and climate crises through the planting of half a million trees within the first two years: 'The right tree, in the right place, with the right management.'
Jo Boylan, outreach officer for Woodland Trust Northern Ireland, said: "The Woodland Trust is delighted to partner with Mid and East Antrim Borough Council to create a new native 14ha woodland as part of the Climate Canopy Project.
"Northern Ireland is the least wooded area in Europe with just under 9% tree cover and we need to work with landowners to increase tree cover for people, nature and climate."
For further information or if you would like to plant some trees on your land, contact Susan Lynn, tree and woodland officer, at [email protected]